Listed below is a 'walk through' of our Covid-19 measures.
Before you leave home you should check your temperature and if you have any symptoms you MUST stay at home and follow the Government guidelines. Please email or leave a phone message before the performance so the theatre can arrange a credit note.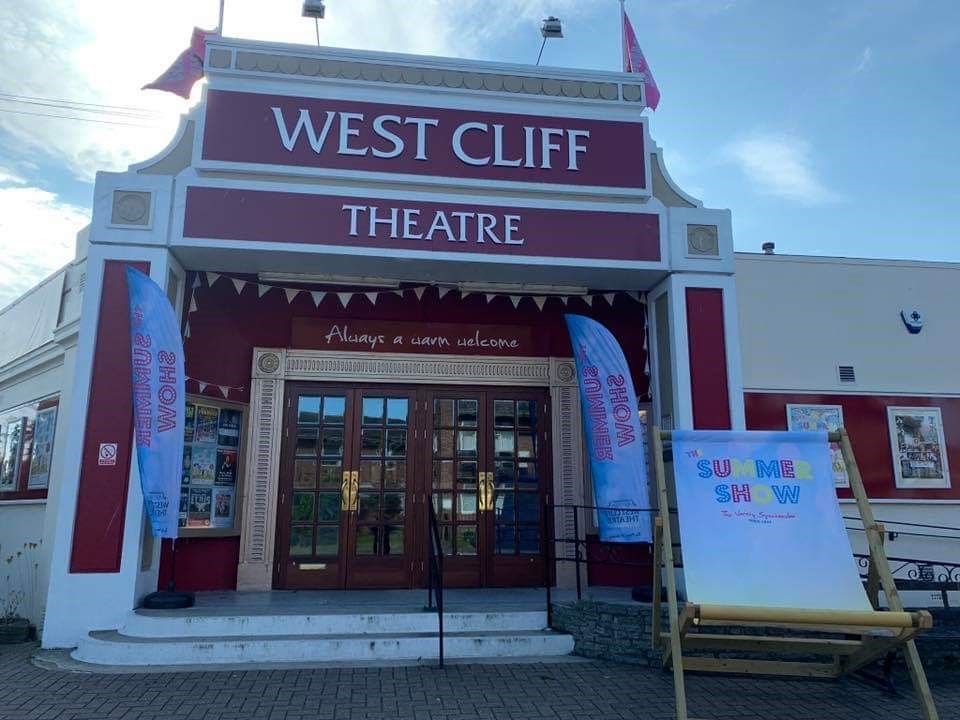 On arrival you will be asked to queue outside to have your tickets and temperature checked, so please wear appropriate clothing and a face covering. Unfortunately, if you have a reading above 38 degrees then the theatre will have to refuse entry for you and anyone you have travelled with. You will be issued with a credit note to be used at a future performance.
 Ideally we would like everyone to pre-book their tickets, but the Box Office will be open for contactless sales. You will have to wait outside and go through our safety checks before being able to buy tickets. Please remember we have limited capacity so booking in advance is highly recommended. 
Once inside you MUST sanitise your hands and if you have the NHS Track and Trace App on your phone you can check in.
There are QR scan codes at the sanitiser stations, by the Box Office, outside the Bar, opposite the easy access toilet and by the entrance door to the auditorium.
Once you have sanitised your hands you may purchase items from the kiosk or use the ladies, but always remember to keep left of the rope barrier and wear a face covering at all times.
We would prefer contactless payment but should you wish to pay by cash we will ask you to put your money in a plastic tray and your change will be put into a separate tray.
We ask that there be no more than 3 people at any one time in the toilets. Please sanitise your hands before entering and wait outside should the toilets be fully occupied.
To enter the Auditorium, please use door 5 which is located just past the bar. There are arrows on the floor to guide you from the Box Office. Due to the one-way system we are not using the usual double doors at the back of the auditorium for access.
Just before you enter the auditorium you will be asked if you have checked in via the QR scan, if not we will need to confirm your details including a contact number for the Track & Trace system.
Bar service is from seat only and the time we have is limited so it is vital to arrive early. A team member will take your order and payment and return with your drinks. This service is available until about 10 minutes before the performance begins. 
PLEASE NOTE: The sale of alcohol will be dependent on the new tier regulations.
Once inside the auditorium you will notice that every other row and certain seats will have red crosses on them. These seats must NOT be sat in for Social Distancing reasons.
If you wish to leave the auditorium to visit the foyer then please use door 6 which is the door at the back of the auditorium on the left-hand side.
Because we are using a one-way system you will need to access the auditorium from door 5 which is where you first entered from. The foyer double doors are currently not in use. The doors closest to the Ladies is a 'pinch point' and are for staff & emergency use only. The doors closest to the Box Office are the EXIT from the auditorium.
When the performance ends we would ask that patrons leave by the nearest available exit from the auditorium. If you need the toilet or are awaiting a taxi, then please use door 6 and remember to social distance whilst in the foyer.
Please be respectful and considerate of our staff and other patrons whilst in the theatre. We MUST follow the rules at all times.
A face covering MUST be worn at all times except when consuming refreshments in your seat. 
NEW SHOW DATES 2021:
Graham Cole moves from Friday 30th April to Saturday 26th June 2021
Those were the Days (Andy Eastwood) moves from Sunday 11th April 2021 to Saturday 3rd July 2021
Supersonic 70s moves from Friday 5th February to Saturday 5th February 2022
Exciting Science moves from Saturday 13th February to Sunday 27th February 2022
Ceri Dupree (A Star is Torn) moves from Friday 26th February 2021 to Friday 25th February 2022
Think Floyd moves from Saturday 27th February to Sunday 31st October 2021
Ricky Nelson 'Travelin Man' moves from Friday 5th March 2021 to Saturday 2nd July 2022
The Opera Boys moves from Saturday 6th March 2021 to Saturday 26th March 2022
Ultimate Classic Rock moves from Sunday 7th March to Friday 25th March 2022
Gingerland moves from Wednesday 17th March to Saturday 9th April 2022
Sensational 60's moves from Friday 19th March to Saturday 19th March 2022
The Bohemians moves from Saturday 20th March to Saturday 12th February 2022
Theatre Train moves from Sunday 21st March to Sunday 28th November 2021
Calling Planet Earth moves from Saturday 27th March to Saturday 26th Feb 2022
Paul Eastwood Waves of Laughter moves from Saturday 3rd April 2021 to Sunday 12th September 2021
The Fizz moves from Friday 9th April 2021 to Sunday 6th February 2022
The Ladyboys of Bangkok moves from Thursday 15th April 2021 to Thursday 21st April 2022
Menopause the Musical 2 moves from Friday 16th April 2021 to Sunday 10th April 2022
Steve Hewlett moves from Saturday 10th April 2021 to Friday 1st April 2022
Spirit of The Blitz moves from Sunday 11th April to Saturday 21st May 2022
Wired for Sound Cliff Richard moves from Sunday 18th April 2021 to Sunday 3rd April 2022
Beatlemania moves from Friday 23rd April 2021 to Friday 4th February 2022
Sleeping With Beauty Moves From Saturday 24th April 2021 to Saturday 2nd April 2022
Big Girls Don't Cry moves from Friday 30th April to Saturday 7th August 2021
The Legends of American Country moves from Friday 7th May 2021 to Friday 6th May 2022
Herman's Hermits moves from Friday 14th May to Friday 8th April 2022
The Matt Monro Story moves from Friday 21st May to Saturday 14th May 2022
 Come What May moves from Sunday 23rd May to Friday 4th march 2022
The Counterfeit 60's moves from Friday 28th May 2021 to Friday 27th August 2021
The Story of Guitar Heroes moves from Saturday 29th May 2021 to Friday 13th May 2022
Lipstick On Your Collar moves from Sunday 4th July 2021 to Saturday 9th July 2022
Rabbit Rabbit Chas'n'Dave moves from Sunday 29th August 2021 to Friday 22nd July 2022
The Jersey Beats moves from Friday 12th November 2021 to Friday 29th April 2022
Michael King: On Tour With Elvis is cancelled but returns for 2022
Ireland the Show on Sunday 14th March is cancelled
Henry Blofeld Saturday 22nd May is cancelled.
Foster and Aleen on Thursday 29th April is cancelled.
The Counterfeit 70s on Friday 27th August is cancelled.
If you are exempt from wearing a mask you can (but it is not law) download a badge or card to your phone or print them. Please click HERE for the Government website page.