SATURDAY 5th DECEMBER 2020
This Show is Covid Secure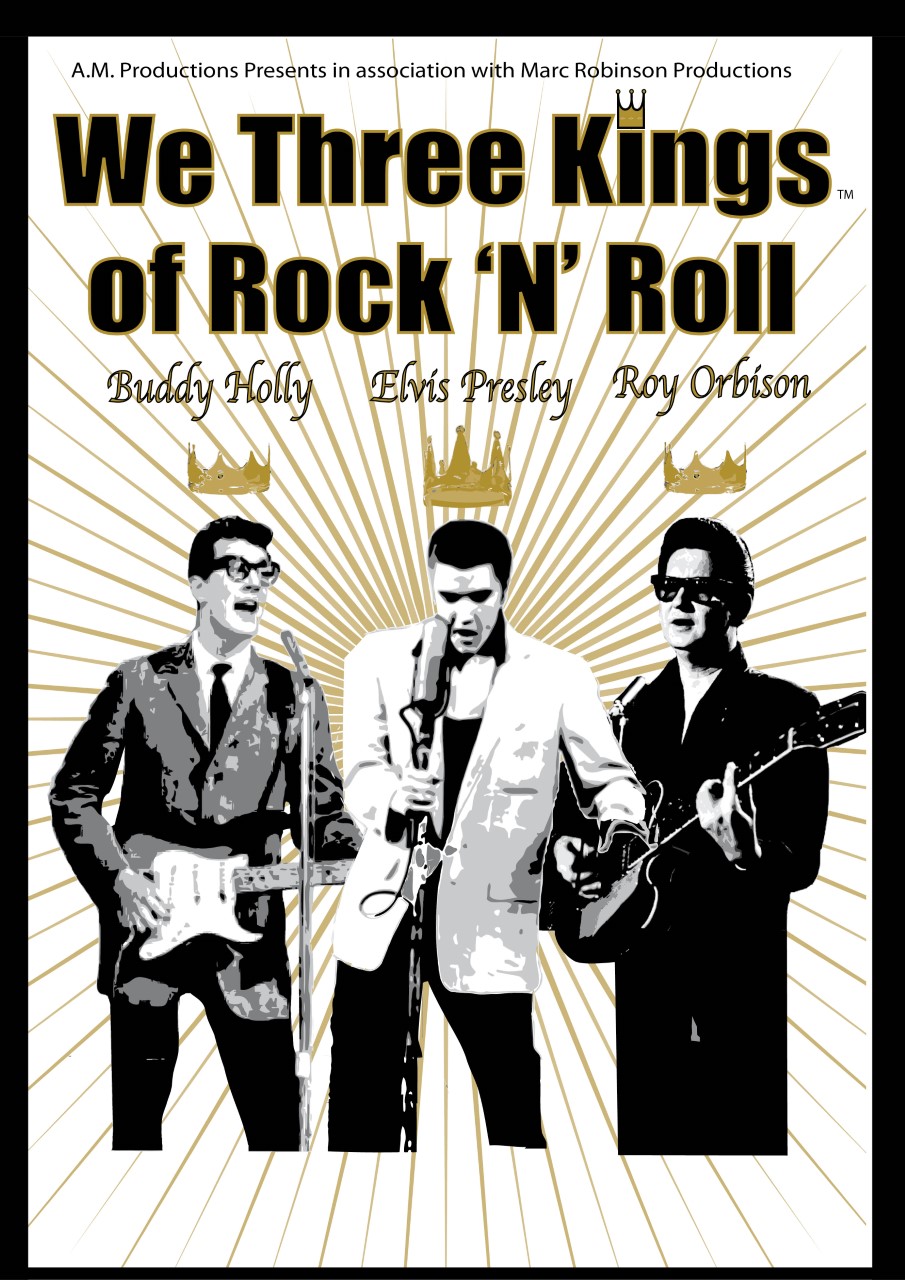 Three Artistes come together to make one heck of a Rock n Roll Sleigh Ride. Marc Robinson as Buddy Holly, Darren Page as Roy Orbison & Steve Halliday as Elvis.
Marc Robinson from 'Stars in their Eyes', 'Buddy' The Musical and many more successful shows, with full authentic attire, Stratocaster Guitar and horned rimmed glasses Marc will perform your favorite Buddy Holly …. Heartbeat, It Doesn't Matter Anymore, & Peggy Sue to name but a few!
Darren Page, for any Roy Orbison fans Darren is a must see, a beautiful voice and a range to cover any genre. Roy's hits … I Drove all Night, Crying, Mean Woman Blues & It's Over, all come naturally to Darren!
Steve Halliday performs as Elvis Presley with respect for the man and his voice, Steve has appeared on many T.V. Shows E.G 'Stars in their Eyes', BBC 1's Elvis Special to name but a few, his love of Elvis will help you enjoy an Evening fit for a King! Come along and hear hits… Teddy Bear, That's all right Mama, Shake Rattle and Roll, G.I Blues, an uplifting two hour show that will have you dancing in the isles.
All this and Christmas magic mixed in too, with White Christmas, Pretty Paper, Blue Blue Christmas, plus many more to shake your Tinsel & Rattle your Baubles to, come along and have the best Rock n Roll Festive Night in Town!
Will Rock n Roll in Clacton ever Die? That'll be the Day!
COVID-19 Information
* Doors to the theatre and auditorium open 1 hour before the show (please do not leave it to the last minute to arrive, we will need time to get everyone in safely). We will check your temperature and ask you to sanitise your hands on arrival. There is a One-Way system inside the theatre and all staff will be wearing the appropriate PPE. We ask that ALL patrons wear a mask (unless exempt) whilst in the theatre and observe the social distancing regulations. The show will run for 75 minutes without an Interval. Refreshments are available and we encourage contact-less payment where possible. We have invested in an electrostatic spray system to disinfect the building, enhanced cleaning regime and have sanitiser stations in the foyer and outside the toilets. At the end of the performance we would ask that you leave the building via the auditorium exits where at all possible.
Please note that by entering the building you accept our terms and conditions in regards to Covid-19 (Disclaimer at the end of the page)
Tickets: £20.00 Standard, £19.00 Concessions (Over 60's) £11.00 (Under 16 Yrs)
(Pricing includes £1 booking fee)
For more information about our booking fee and why we need to charge it click HERE (opens in a new tab/window)
Please try to book seats in the most sensible combination possible. The larger the household group or bubble (Maximum of 6), the more seats we can sell.
If you are struggling to get the best seating combination or have any questions then please contact the Box Office. 
Seats in Grey are unavailable due to Social distancing. 
(To maintain social distancing there will not be people seated in front, behind or to the side of each bubble)
We may have to re-allocate seats nearer the performance and can only apologise in advance.