Shows in Comedy
Summer Variety Show
Sunday 10th June 6pm
The Variety Spectacular
SINCE 1894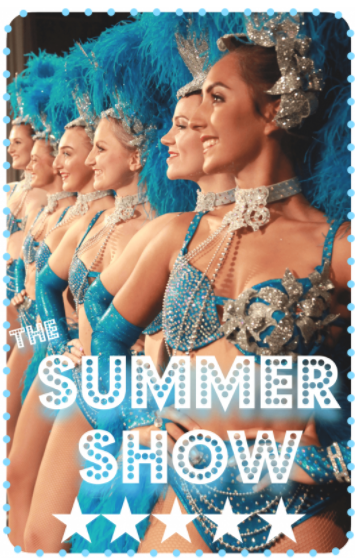 Performances Throughout August – Matinees & Evenings (see schedule below)
The West Cliff Theatre in Clacton can date the origin of its annual summer show back to 1894 – which makes it the longest running continuous summer season in the UK!
Come and indulge in the glitz and glamour of our great British revue show. Featuring laugh out loud comedy, spell binding performances and spine tingling vocals, together with a company of eight gorgeous dancers plus our junior ensemble…
The Summer Show is not to be missed!
A feast of family entertainment, flavoured with tradition.
Friday 10th August 7.30pm
The people's favourite and one of Britain's greatest ever comedians, JIM DAVIDSON OBE telling it 'like it is'.
The antidote to this PC world we now live in. Don't worry, it will be outrageous and as truthful as ever!
For one night only!
Adults only
'Boy does Jim know how to deliver his gospel…..
'The audience could have stayed all night………. he speaks with a rare honesty'
5 stars Express  
"Showman Jim triumphs… he hit the spot again and again"
Sunday Express ***** 
"Standing ovation to packed houses every night"
The Mirror **** 
"Davidson was cheered to the rafters"
The Telegraph 
"A master of his art"
The Spectator BOOK TICKETS / MORE INFO
Saturday 6th October 7.30pm
Joe Pasquale burst on to our TV screens 30 years ago on ITV's New Faces.  Now he's on his 30th anniversary tour 'A Few Of His Favourite Things'; a celebration of his best cack, plus some surprises on the way!  Let your inner child loose and learn to laugh and play again.  WARNING: This show may contain nuts and Joe may say the word 'fart'.
From the Producers of THE SUMMER SHOW
Wednesday 19th December 7pm
Thursday 20th December 2pm & 7pm
Friday 21st December 2pm & 7pm
Saturday 22nd December 2pm & 7pm