Sunday 21st October, 7.30pm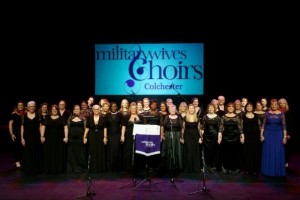 Following on from Gareth Malone's success, the Colchester Military Wives choir goes from strength to strength. They have performed at the Dominion Theatre, London. The choir was honoured to share the stage with LULU as she embarked on a UK wide tour, and was also represented by several of our members, singing as part of a nationwide Military Wives choir performance at the Carnegie Hall, New York.
For the last four years the choir have staged an evening performance at the Mercury Theatre, Colchester where they performed to full houses.
The choir is part of a growing network of Military Wives Choirs across the forces community worldwide and have recently recorded an album with 1105 voices of all these ladies. This is due for release on the 29th June this year, in commemoration of the end of WW1.